Deep in the heart of picturesque Somerset lies Dunster, a medieval village with subtle beauty and plenty of things to do if you are looking for an exciting UK break. In this article we look at a few reasons why you should visit Dunster and what to do when you're there.
The History
Dunster village is full of history and there is so much to explore about its past. Originally recorded in the Doomsday book as 'Torre' meaning 'the rocky hill' the village has over 200 listed buildings which remain unspoilt. The main centre point of Dunster is the 17th century Yarn Market hall.
The octagonal shaped building is made entirely out of wood and has a central stone pillar topped by a bell turret supporting the open roof. If you look closely at the beams you will see one has damage caused by a cannonball. While in the village you can also visit St George's Church which has the longest Rood screen in England.
Another must visit attraction is the magnificent Dunster Castle which offers spectacular views from its location on a 200-foot hill. Dunster Castle has existed since Norman times and is one of the most impressive fortresses in the UK.
The castle which was once home to two families during the 11th and 12th century is now owned by the National Trust. You can stroll around yourself or join one of the guided tours which is highly recommended as you'll get a true understanding of what life was like living in the castle.

Attractions
As well as the history there are plenty of other attractions to keep you entertained. If the weather is good, then a trip down to Dunster Beach is a must. It is a wide sand and pebble beach with stunning views across Blue Anchor Bay and out across the Bristol Channel towards the South Wales coastline.
Dunster Beach has a number of Chalets which you can rent out for a weekend and it is an idyllic family spot for a picnic and dip in the sea if you're brave enough. If you have the energy then there is a lovely pathed walk up to Blue Anchor from the beach.
Dunster is perfect for dogs and has free parking outside of the village near the tall tree's walk. You can take many different paths into the woods and get lost exploring.
Dunster Forest is a walk worth taking and it is located past the Gallox Bridge and up the hill. This walk has loads of paths to follow and a stream that leads you up to Bat's castle where if you are lucky and quiet enough you might spot some deer or various wildlife.

Food and drink
Dunster is spoilt for places to eat and drink and has many pubs, restaurants, and tea shops. If you like your cheeses, chutneys, and meats then the Dunster Deli is a must visit – it also sells a variety of beers and ciders.
For those people with a sweet tooth the Chocolate Shop has sumptuous cakes and fudges as well as boxed gifts which are perfect for friends and family.
Dunster's restaurants are reasonably priced and offer a selection of culinary delights including Mediterranean and the more traditional pub style menu. You can enjoy sunny days in the beer gardens or cosy up inside enjoying the friendly atmosphere.
Another great location to eat in Dunster is with a Dunster Castle Express Picnic. It includes freshly made sandwiches, cakes, pork pies, crisps and fruit with vegetarian and gluten free options. You will need to pre-book 7-days in advance in order for them to make it.
If you are still stuck for something to eat in Dunster check out the Where to Eat page.

Stay in Dunster
Dunster in a village with so much history, so you can't fit everything into one day, so why not stay longer!
Dunster has a wide range of accommodation in the village, from hotels to bed and breakfasts for a relaxing stay, or if you want to take care of yourself there are lots of options for self catering or even Dunster beach chalets to rent out!

Local Events
If you visit Dunster at the right time you might come across one of the many events that are held in the village throughout the year.
Some of the more popular events include Dunster by Candlelight and falls on the first weekend in December. All lights in the village are turned off, illuminated only by candlelight road lights, the streets are lined with various food and drink stalls.
If you're in the village during Easter, then Dunster Castle holds a Cadbury Easter egg hunt which is perfect for young children and families. The castle also runs a medieval event and archery tournament which is one of the highlights of the year and will take you back in time to when the Dunster Castle was a medieval hive of activity.
During the summer, which is peak time for tourists, the Dunster Country Fair and Dunster Show are also worth checking out and are held in July and August.

Dunster's Hidden Treasures
If you manage to take in all the above Dunster still has more to offer and there are a lot of other spots that aren't well known or advertised – you just have to know where to look.
For the romantics there is Lover's Bridge which is located on the Dunster Gardens walk close to the Dunster Working Watermill. This quaint spot is ideal for a peaceful walk, and you can even discover the history of it and how it got its name.
Other areas to look out for are Bats Castle, which is an old settlement out past Dunster Forest, Butter Cross, Dunster Tithe Barn, Dunster Dovecote and Conygar Tower.
Dunster is one of the UKs most popular destinations so if you would like to share your experiences in Dunster village or any hints and tips when visiting Dunster then why not leave a comment below.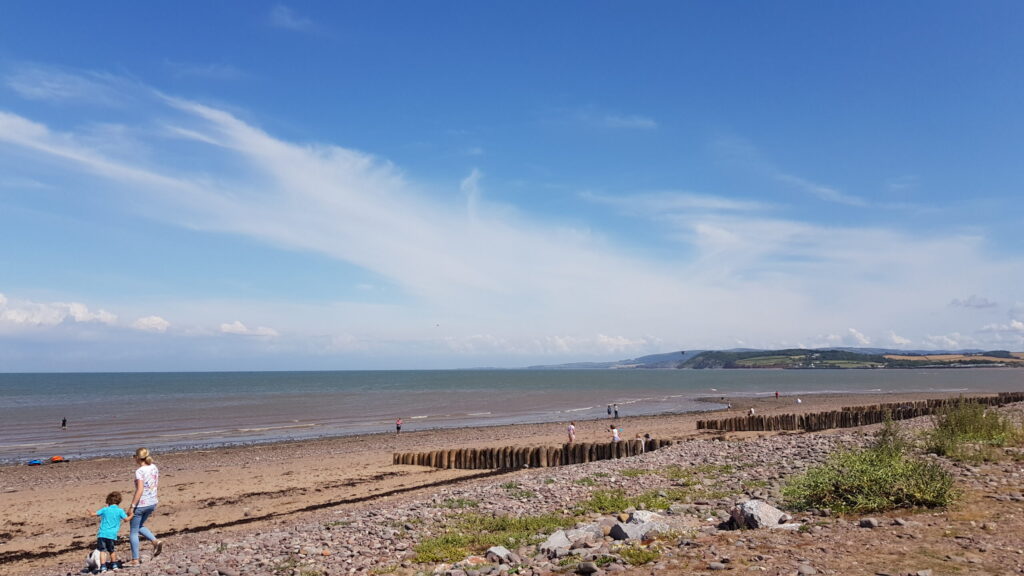 I hope you have enjoyed this blog post, if please comment below if you would like to share your experiences in Dunster village or any hints and tips when visiting Dunster.